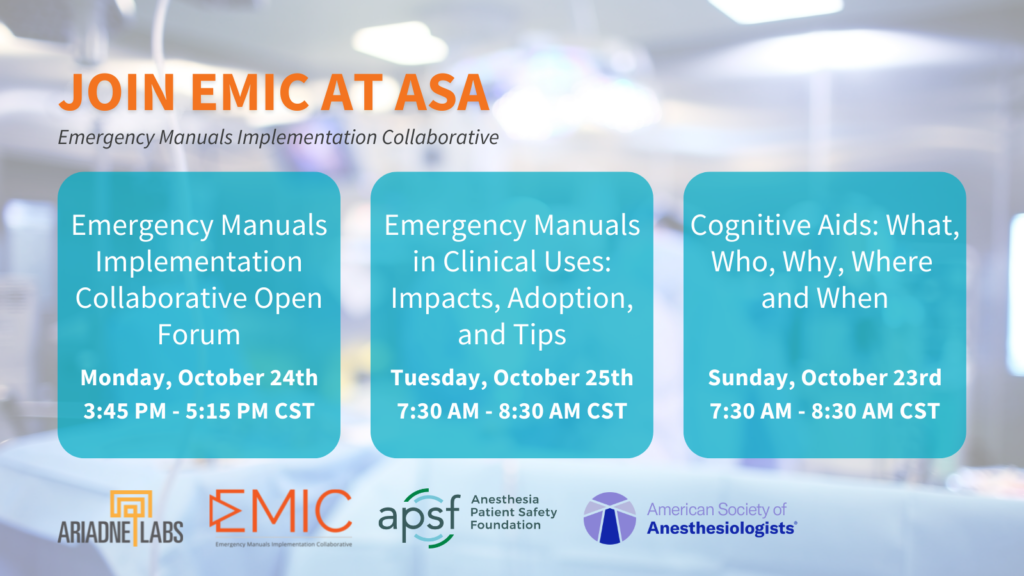 The Emergency Manuals Implementation Collaborative (EMIC) fosters adoption and effective use of emergency manuals to enhance our patients' safety. Our initial focus is perioperative care, while sharing our lessons with other fields of healthcare.

Our goals are to:
1. Provide a framework for clinicians and teams to train for, manage, debrief, and report critical events.
2. Embed the effective clinical use of emergency manuals into patient care.
3. Build a community to share tools, overcome barriers, and facilitate implementation.
4. Provide resources to improve care in dynamic fields of healthcare with high intrinsic hazard.

---
Recent EMIC-related Publications
Chen YK, Arriaga A. Crisis checklists in emergency medicine: another step forward for cognitive aids. BMJ Qual Saf. 2021 Sep;30(9):689-693. doi: 10.1136/bmjqs-2021-013203. Epub 2021 Mar 25. PMID: 33766892.
Goldhaber-Fiebert, Sara N. MD; Bereknyei Merrell, Sylvia DrPH; Agarwala, Aalok V. MD, MBA; De La Cruz, Monica M. MPH; Cooper, Jeffrey B. PhD; Howard, Steven K. MD,; Asch, Steven M. MD; Gaba, David M. MD, Clinical Uses and Impacts of Emergency Manuals During Perioperative Crises, Anesthesia & Analgesia: December 2020 – Volume 131 – Issue 6 – p 1815-1826 doi: 10.1213/ANE.0000000000005012