COUNCIL ON SURGICAL AND PERIOPERATIVE SAFETY (CSPS)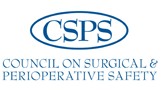 CSPS is an incorporated multidisciplinary coalition of professional organizations whose members are involved in the care of surgical patients. The Council has recently endorsed the use of cognitive aids in clinical patient management and endorsed EMIC. They also offer many links to emergency manual resources in their Safe Surgery Resources. CSPS is composed of The American College of Surgeons (ACS), American Society of Anesthesiologists (ASA), Association of periOperative Registered Nurses (AORN), American Association of Nurse Anesthetists (AANA), American Association of Surgical Physician Assistants (AASPA), Association of Surgical Technologists (AST), & American Society of PeriAnesthesia Nurses (ASPAN).
To find out more about CSPS, visit their website click here.